R

dark rings: 2 d = r2 / R = (1/2

)(2m)
bright rings: 2 d = r2 / R = (1/2

)(2m+1)
where m= 0,1,2,3,...
Finally, we obtain
DARK RINGS:
rdark =


BRIGHT RINGS:
rbright =


where m=0,1,2,...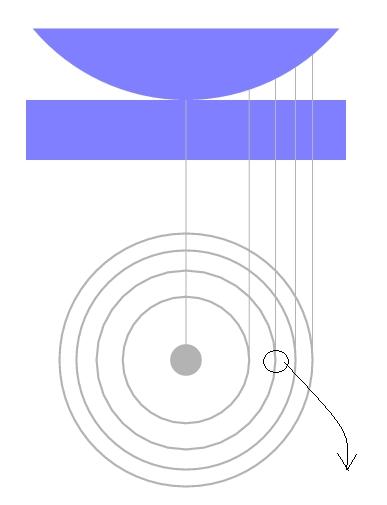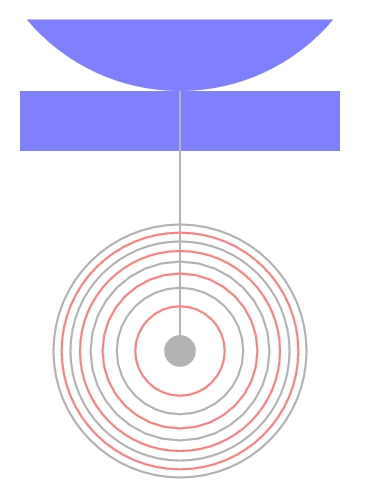 Also, around the crests, the intensity becomes minimum due to the interference, (in this case, complete elimination happened.).
The darkness becomes gradually lighter as it goes further from the crests.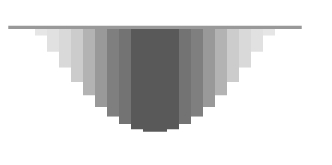 "Newton's rings" looks like this!!!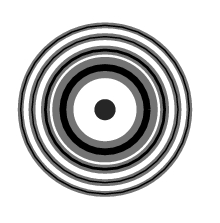 Monochromatic Lights vs White Light

The monochromatic lights such as red, green, violet lights have different wave lengths. How do the Newton's rings differ by this?



Red light
The wavelength is 780 nm.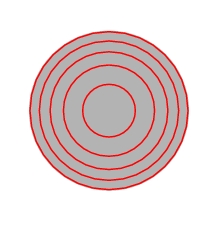 Green light
The wavelength is 550 nm.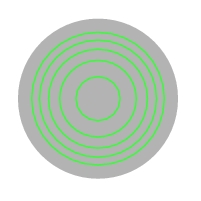 Violet Light
The wavelength is 380 nm.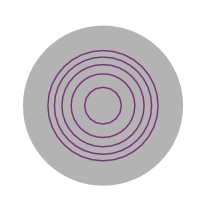 The rings' radii are bigger in longer waves and smaller in shorter waves. Thus, if the white light goes through the Newton's rings apparatus, the each ray is separated, and reflects in different ways. As a result, the violet makes inner layers of the bright rings, and red makes outer layers on every bright part.
However, as the radius increases, many lights interfere and are mixed together. Then, the colorful bands can no longer be seen clearly.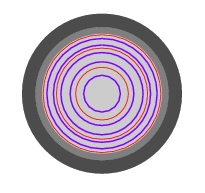 References:
Opticks: Isaac Newton. Fourth Edition. 1979. Dover Publications.New York.
Light: R. W.Ditchburn. Volume One. 1976. Academic Press. London.