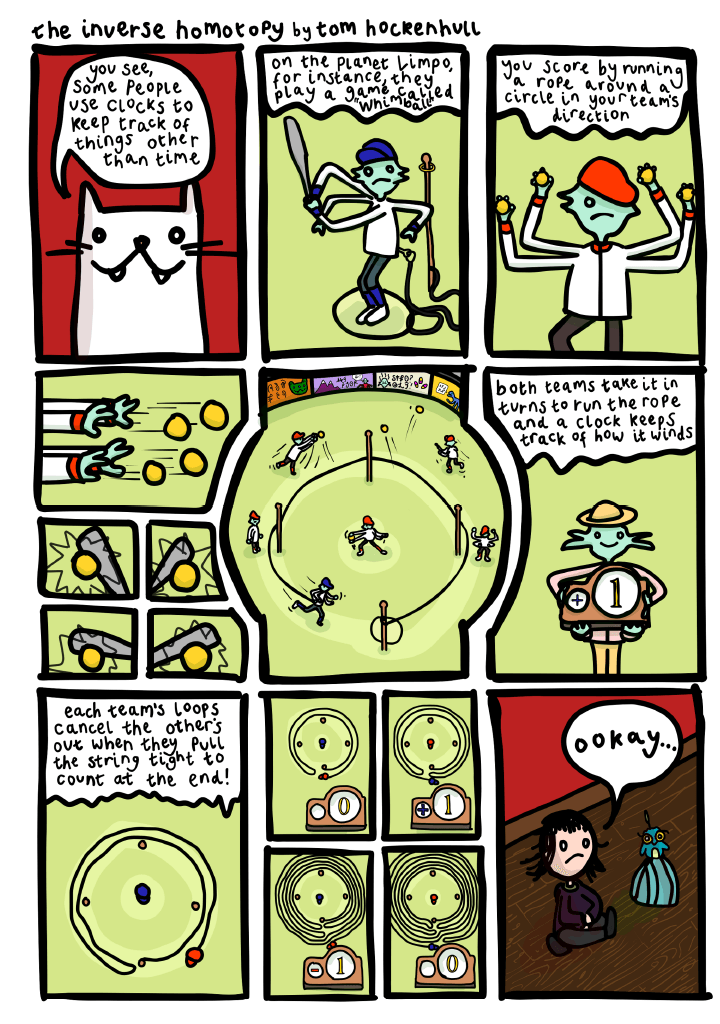 Introduction to Topology
Fall 2018
This course covers some of the essentials of point set topology and introduces key elements from algebraic topology. This will be covered, very broadly, in three parts:
Part 1: point set topology
Part 2: homotopy and the fundamental group
Part 3: further covering spaces and related topics
The course has two goals: It aims to give an overview that is accesible to anyone interested in learning about the subject, while at the same time, providing the key elements required for those choosing to continue on to Math 427 (Topics in Topology). Note that material from both of the prerequisites Math 321 (Real Variables II) and Math 322 (Introduction to Aglebra) will be assumed.
The image on the right was borrowed from The Inverse Homotopy by Tom Hockenhull (with permission); read the entire comic strip here.
Instructor
Liam Watson
liam(at)math(dot)ubc(dot)ca
Office hours are on Mondays from 2:00 to 3:30 (or by appointment) in Mathematics 219.
Where, when...
The class meets Mondays, Wednesdays, and Fridays from 10:00 to 11:00 in Math Annex 1118.
Exams
There will be one midterm exam and one final exam.
The midterm is scheduled for Friday October 26. It will be in class and be 50 minutes in length. I'll arrive early so we can start right on the hour.
The final is scheduled for Thursday December 13 at 12:00 pm. It will be in Buchanan B315 and be 2.5 hours in length.
Evaluation
Your final grade will be calculated according to which of the following two grading schemes is higher:

Homework (40%)
Midterm (20%)
Final (40%)

Homework (50%)
Midterm (0%)
Final (50%)
Suggested references
Topology by James Munkres, on course reserve.
Algebraic Topology by Allen Hatcher, available here.
Basic Category Theory by Tom Leinster, available here.

A word about supporting material for the course: The references listed above have been designated as optional, but this does not mean that seeking supporting material for the course is not required. There are many great references for topology, and it is up to you to find the materials you need to complement the lectures and succeed in the course. This search may be done in consultation with me; I am more than happy to help. I will endeavour to provide clear notes in class, summarise lectures below, and point to references for additional reading.
Other reading
Counterexamples in Topology by Lynn Steen and J. Arthur Seebach, Jr.
Lecture summaries
Lecture 1: Introduction (September 5)
Armed only with the definiton of a topological space – a choice of subsets declared to be open on a given set of interest – we reproduced Furstenberg's proof of the infinitude of prime numbers. This provides a different point of view on Euclid's theorem, illustrating that the utility of topology often lies in the ability to adapt the choice of topology to the problem in question. Read more about Furstenberg's proof here.
Lecture 2: Continuity (September 7)
We considered an important class of examples – the topology induced by a metric – and used this to motivate the appropriate notion of a map between topological spaces, namely, we said that a function was continuous if very open set in the image has an open pre-image.
Lecture 3: Subspace and product topologies (September 10)
We looked at two new contructions of new spaces from old: the induced topology on a subset of a space and the product topology on the cartesian product of two spaces. For the latter, we proved that a basis is provided by the product of bases on each space in question.
Lecture 4: Compactness (September 12)
By a appealing to the Tube Lemma, we proved that the product of two compact spaces is a compact space.
Lecture 5: Topologies on products (September 14)
When the product of interest is of infinitely many spaces, there are two possible topologies one might consider: the box topology and the product topology. The former has strictly more open sets than the latter, making the product topology the right topology. Importantly, it is determined by pulling back the open sets from the factors along the projections.
Lecture 6: Compactness via closed sets (September 17)
Compactness can be reformulated in terms of closed sets, using collections of subsets having the finte intersection property. That is, a space X is compact if and only if for every collection of closed sets having this finite intersection property we know that the intersection of all the sets in the collection is non-empty. In fact, as a consequence of Zorn's lemma, if there exists a collection of closed sets with the finite intersection property, then there exists a maximal one. Speaking of Zorn's lemma, if you happen to be getting balled up about things like the axiom of choice, this is worth reading. Actually, this is worth a read even if the axiom of choice doesn't really bother you.
Lecture 7: The Tychonoff theorem (September 19)
Today we finished up the proof of Tychonoff's theorem, confirming that an arbitrary product of compact spaces is compact under the product topology. As a application, consider the space of bounded linear functionals, that is, the space of linear functions from a ball in a normed vector space to the interval [-1,1], viewed with the product topology. According to Tychonoff, as a closed subset of a compact space, this must be a compact space.
Lecture 8: Some consequences of the Uryshon lemma (September 21)
The Uryshon lemma – theorem, really – has many important consequences in day-to-day (mathematical) life, including Uryshon's criterion for metrization, the Tietze extension theorem, and the existence of embeddings for manifolds. This lemma allows you, in any normal space, to keep disjoint closed sets separate in the image of a map to a closed interval in R. The condition that the space be normal led us on a meandering discussion about separation of various strengths.
Lecture 9: The proof of the Urysohn lemma (September 24)
Today we proved the Urysohn lemma by constructing a family of open sets, interpolating between two disjoint closed subsets, indexed by the rational numbers in such a way that inclusion is compatible with the order on the rationals. This key step used normality of the space in an essential way.
Lecture 10: Category basics (September 26)
Category theory provides a framework for comparing structural properties between different objects of (mathematical) interest, for instance, the category of topological spaces or the category of groups. The key idea is that of a functor, that is, a map between categories that behaves well with respect to composition and identity elements. We showed how the existence of such a functor can be a very useful tool for studying spaces by converting topology into algebra. In particular, the existence of a functor which is trivial on a point but Z on a circle gives rise to a proof of the Brouwer fix point theorem by contradiction. This boiled down to factoring an isomorphism Z→Z through the trivial group.
Lecture 11: Universal properties (September 28)
Today was an introduction to universal properties by example. There are three that we considered pertaining to building new topological spaces from old: the induced topology, the product topology, and the quotient topology. The first two of these are a reformulation of things we've seen already, but the third is a new (and really important!) construction. My suggestion for additional reading on categories is Tom Leinster's fantastic and freely available Basic category theory. In fact, more than just a good categorical reference for this course, I think this is a good thing to keep with you as categories arise in other contexts (mathematical or otherwise).
Lecture 12: Introduction to homotopy (October 1)
Today we saw a notion of deformation between two maps called homotopy: a continuous family of maps indexed by real numbers between 0 and 1. This gave rise to a new notion of equivalence for spaces which is more flexible than homeomorphism type. For instance, the disk is homotopic (but not homeomophic) to, a single point.
Lecture 13: The fundamental group (October 3)
Today we started the process of checking that the set of homotopy classes of loops based at a fixed point forms a group.
Lecture 14: The fundamental group, continued (October 5)
We now know that the group law on homotopy classes is associative and has inverses, so the set of homotopy classes of loops based at a point is a group; this is the fundamental group.

Lecture 15: The Poincaré conjecture (October 10)
Today we looked at a type of cover with a lot of restrictions, which we termed nice. The utility of nice covers was that they allowed us to factor loops, and we used this to compute the fundamental group of an n-dimensional sphere when n was at least 2 (it's always a trivial group). Said another way, sphere's other than the circle are simply connected. Poincaré conjectured and, 100 year later, Perelman proved that this characterizes the 3-dimensional sphere, that is, a compact and simply connected 3-manifold X is homeomorphic to the 3-dimensional sphere.
Lecture 16: Induced maps (October 12)
Given a map between (based) topological spaces we produced a group homomorphism, and checked that this notion of an induced map upgrades the construction of the fundamental group to a functor from (based) topological spaces to groups.
Lecture 17: Covering space basics (October 15)
We looked at group actions and quotients, and in particular, found that the boundary of a Möbius strip is a 2-to-1 covering space of its central circle. In this famous image by M.C Escher you can see this cover pretty clearly.
Lecture 18: The fundamental group of the circle (October 17)
This is our fist non-trivial example: the fundamental group of the circle is isomorphic to the additive integers. The proof of this fact relies on homotopy lifting, which we will see next time. Our treatment follows Hatcher very closely.
Lecture 19: The homotopy lifting lemma (October 19)
Technical lemma Friday! He now know how to lift homotopies, thus completing the calculation of the fundamental group of a circle. Note that next week's midterm covers material up to an including this lecture.
Lecture 20: Further constructions (October 22)
We constructed the wedge product of two path connected spaces, focusing in particular on the case of two circles (called a bouquet, sometimes). Along the way we made clear/recalled that the fundamental group functor, by construction, is an invariant of topological spaces viewed up to homotopy.
Lecture 21: The Van Kampen theorem (October 24)
This is the main divide-and-conquer tool used for computing fundamental groups. It involves picking a nice cover, in the sense that we saw earlier in the course.
Midterm (October 26)
Midterm redux (October 29)
Lecture 22: The fundamental group of the trefoil exterior (October 31)
The trefoil knot is a set in the torus that winds 3 times in one direction and 2 in the other. We looked at a nice cover of the three-sphere with two open sets for which their common intersection was the the torus, and used this to compute the fundamental group of the trefoil's complement in the three-sphere.
Lecture 23: Proof of the van Kampen theorem (November 2)
Given a nice cover of X, Van Kampen tells you how to take a quotient of the free product of fundamental groups of the covering sets in order to compute the fundamental group of X. We worked out the kernel of the map giving rise to this quotient explicitly, completing the proof od Van Kampen's theorem.
Lecture 24: subgroups and covers: prospectus (November 5)
We will spend the next few weeks building up a glossary between subgroups of the fundamental group and covering spaces. This lecture set this up by revisiting examples we've seen already, for example, the Möbius strip from Lecture 17.
Lecture 25: Topological graphs (November 7)
As an application of the yet-to-be-established correspondence between vores and subgroups, we proved that subgroups of free groups are free. For this we took a good look at (topological) graphs and proved that the fundamental group of a graph is always a free group.
Lecture 26: 2-cell complexes and group presentations (November 9)
Topological graphs are special cases of more general objects called cell complexs. We say that addin a 2-complex to a space gives a null-homotopy for the curve that you glue it to. This, in turn, gives rise to the notion of a group presentation: starting with the free group, that is, the fundamental group of a bouquet of circles, we can attache 2-cells to this space. The result at the level of the fundamental group is a quotient, and the words that you quotient by in this way are called relators in the group.
Lecture 27: The universal cover (November 14)
Starting with a good idea for what such a space should be in the case of a wedge of circles, we considered the general construction of a covering space associated with a given space X (some hypothesis required!) that is simply connected. This is called the universal cover, because it is unique up to isomorphism and it covers any other covering space of X.
Lecture 28: Constructing the universal cover (November 16)
Today we built this space from scratch, first noting that a condition – semilocal simply connectednedness – was necessary.
Lecture 29: Covers associated with subgroups (November 19)
Given a subgroup of the fundamental group of a space X, we constructed an explicit covering space of X associated with this cover.
Lecture 30: Early review (November 21)
We paused to review certain notions – retractions and deformation retractions – in the context of the various constructions we've now seen. This was an effort to point to a means of structuring your own review and consolidating various new concepts encountered in topology.
Lecture 31: Deck transformations (November 23)
Now that we have a bijective correspondence between connected covers (up to isomorphism) and conjugacy classes of subgroups of the fundamental group, we took a closer look at the action of the fundamental group on the universal cover. This is the deck transformation group.
Lecture 32: Introduction to K(G,1) spaces (November 26)
A space X is a K(G,1) space if it has a contractible universal cover and it's fundamental group is isomorphic to G.
Lecture 32: Classifying spaces (November 28)
Given a group G we constructed a contractible cell complex EG with a covering action by G so that BG=EG/G is a K(G,1) space.
Lecture 33: Graphs of groups (November 30)
New groups from old, indexed by trees and graphs.