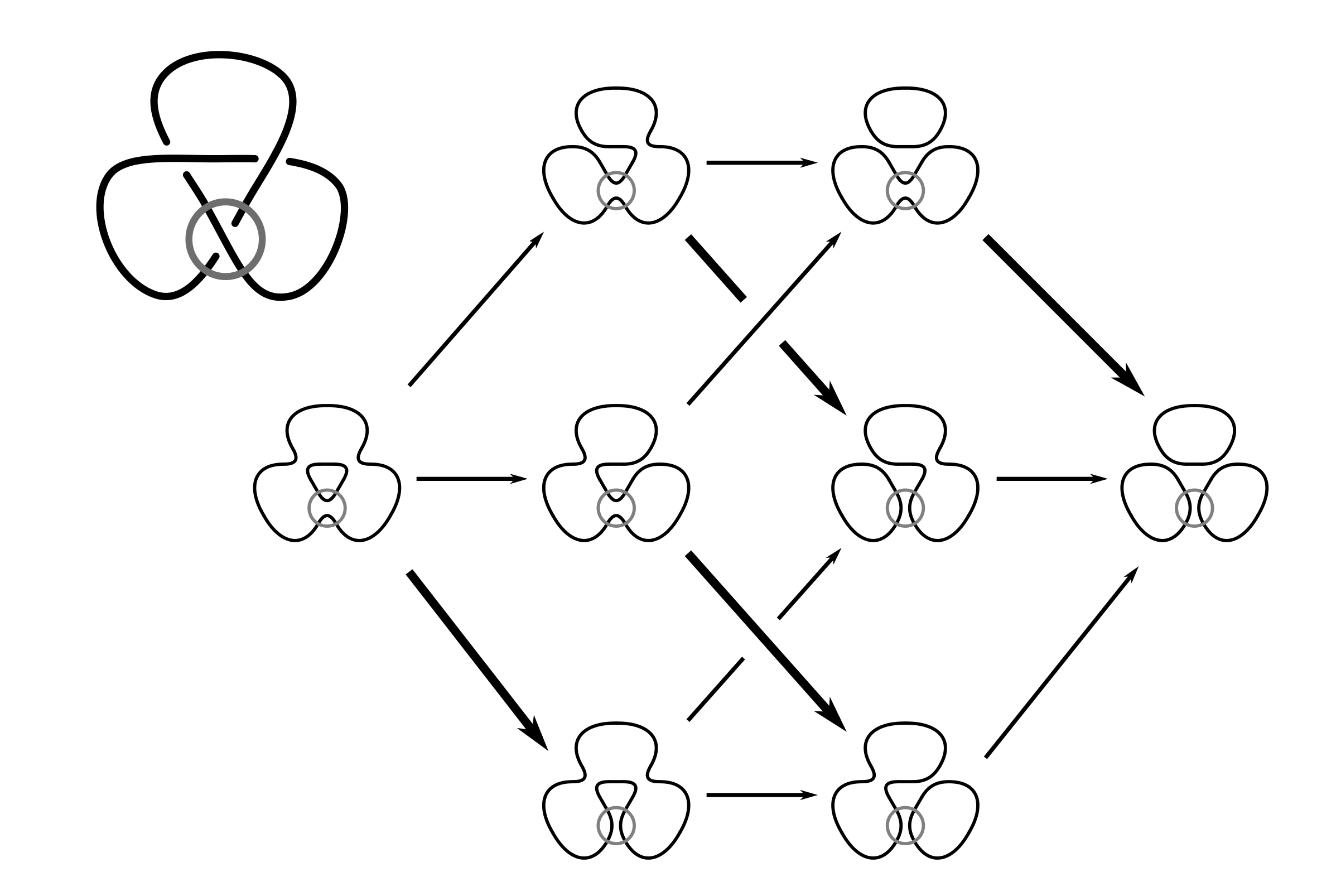 Knot homology theories
Math 603D
Fall 2020
This is a course on homological invariants of knots. This will take Khovanov homology as a central object of study, with a focus on the current state of homological invariants in low-dimensional topology, more generally, since Khovanov's initial work categorifying the Jones polynomial [Kh2000], which was posted to the arXiv just over 20 years ago.
As a starting point, this course will assume a little basic knot theory, in particular, the definition of a knot. A great reference for this is Dale Rolfsen's classic book Knots and Links [Ro1976].
Instructor
Liam Watson
liam(at)math(dot)ubc(dot)ca
Office hours by appointment.
Where, when...
The class meets Tuesdays at 2:00 pm Pacific, using Zoom. The first lecture is on September 8, 2020. In addition, students are encourage (and expected!) to meet as a group on Thursdays to discuss problems and exercises.
Evaluation
Your final grade will be largely based on your final presentation for the course, which will constitute an hour-long lecture on a topic related to the course material. I will work with you in order to help choose a subject that aligns with your interests; presentation topics will be settled by the end of September. You will also be required to submit an extended abstract/literature review by the end of October (worth 20% of your final grade) and submit solutions to exercises that come up in lectures (worth 10% or your final grade). This latter is essentially a participation score, though note that you must submit homework in order to receive an A+ in the course.
Resources
I'll draw primarily on research articles in this course; references will be updated/expanded continuously (see bottom of page). There are now many survey articles and lecture notes covering various aspects of knot homology theories (generally) and Khovanov homology (specifically). For an excellent introduction to Khovanov homology see Bar-Natan's On Khovanov's categorification of the Jones polynomial [BN2002] and for a description of knot homologies that alignes closely with our course, see Rasmussen [Ra2005].
Lectures
Prelude: the Conway knot is not slice (September 8)

In order to provide some context for and an overview of the course, this lecture aims to highlight the apparently crucial appeal to Khovanov homology [Kh2000]–presicely, to Rasmussens s-invariant [Ra2010]–in Piccirillo's recent proof that the Conway knot is not slice [Pi2020]. In so doing, I'll aim to set up some context for the kinds of problems currently driving low-dimensional topology, which will be a secondary theme in the course.

For those interested in a different take, or in mathematical writing for broader audiences, there is an excellent Quanta article reporting on Piccirillo's work.
Khovanov's construction (September 15)

Today's focus was on Khovanov's original construction, categorifying Kauffman's state sum formula (via the cube of resolutions associated with a link diagram) [Kh2000]. This treatment followed Bar-Natan's article [BN2002] very closely, thought the original source, particularly the introduction, is recommended reading.

Sadly, Vaughn Jones passed away on September 6, 2020. The treatment of the Jones polynomial given in this lecture is noteworthy for how elementary and computable it is, but this belies that really nice representation theoretic underpinnings of the story. If you are interested, I recommend Jones' paper Hecke algebra representations of braid groups and link polynomials [Jo1987].
Early observations and additional structure (September 29)

One of the outcome's of Bar-Natan's paper [BN2002] was the first computer program calculating Khovanov's invariant. This led to the observation, for instance, that Khovanov's constructions was strictly stronger than the Jones polynomial–the knots 51 and 10132 provide an explicit example (I think a great problem to give a good explanation for why this is so for some family of examples). Bar-Natan's paper also observed that the Jones polynomial ans signature seemed to determine the Khovanov homology of an alternating link. We discussed Lee's proof of this fact [Lee2005], by following a generalization of her argument due to Manolescu and Ozsváth [MOz2008].

Open Problem. Find a general construction that modifies a knot in such a way that the modification is invisible to the Jones polynomial but visible to Khovanov's invariant. Note that, according to an example of Wehrli, the restrictions to knots is the interesting case.
Rasmussen's s-invariant (October 6)

Lee's work [Lee2005] represented the tip of an iceberg: It gives the main tools required to construct the s-invariant, which came up in the first lecture. We followed Rasmussen's paper [Ra2010] closely.
Frobenius extensions (October 13)

In the previous lecture it became clear that there was in fact some flexibility in the choices we originally made for multiplication and comultiplication maps. Khovanov sorted this out completely in [Kh2006], and we went through this in detail.
Invariance via Bar-Natan's cobordism category (October 20)

We returned to the question of invariance. The right perspective to take on this is a very general one due to Bar-Natan [BN2005], who gave a completely local version of Khovanov's theory that is well-adapted to dealing with the Reidemeister moves. Bar-Natan sorts out how to work with the cube of resolutions directly, as a complex of a cobordism category (modulo certain carefully chosen local relations). This is really beautiful story that sheds light on all the different moving parts we've seen so far.

This work also gave rise to what is not the state-of-the art computational software, which can be obtained at The Knot Atlas.
Recovering algebraic invariants from Bar Natan's category (October 27)

One of the aspects of Khovanov's construction that Bar Natan's cobordism approach illuminates is how various deformations (see [Kh2006] and the lecture on October 13) arise based on minor adjustments to the cobordisms allowed. We looked at Bar-Natan's `tautological functors' and, in particular, considered cobordisms carrying extra dots in order to recover Khovanov's original invaiant as well as the one arising from the universal Frobenius extension. These dotted cobordisms seem like they should be too meaningless to give rise to anything meaningful (sic), but it is a surprising fact that this point of view underpins the computational efficiency of the state-of-the-art programs for calculating Khovanov homology. This is explained in a self-contained and easy to read paper called Fast Khovanov homology computations [BN2007].
Bar-Natan homology (November 2)

Collecting our thoughts from last time, we defined Bar-Natan homology as well as a reduced version of this invariant. This gave us a first look at a type D structure: Bar-Natan homology is equivalent to promoting Khovanov homology to a type D structure over the polynomial ring k[H], where k is a field. This leads to the following question, which I would like to give a somewhat detailed answer to in the coming weeks: what is, or what is the best way to think about, the Bar Natan homology of a 4-ended tangle T? To start, we interpreted Bar-Natan's [[T]] as a type D structure Д(T) over an algebra derived from Cob/l. This follows the reference [KWZ2019] closely, which contains details on the algebraic objects in play.
Khovanov invariants as curves (November 10)

Digging further into [KWZ2019], certain interesting features arise. Our aim is to convert the type D structure Д(T) (over Bar-Natan's algebra) into a regular homotopy class of a collection of immersed curves. This makes use of a simplification algorithm from [HRW2016], that starts with an immersed train track interpretation Д(T). (The expectation that one should obtain curves comes from [HKK2017].)
Train tracks and local systems (November 17)

In the process of applying the simplification from train tracks to curves, we learn that local systems become an essential part of the landscape. Particularly interesting in the setting of Khovanov homology, understanding mutation invariance boils down to controlling the local systems that arise. For example, the fact that Khovanov homology is mutation invariant with mod 2 coefficients (see Bloom [Bl2010] or Wehrli [We2010]) can be explained in this way; the local systems simplify considerably in this case. This also leads to the proof that, independent of the field k, the s-invariant is insensitive to mutation.
Notions of simplicity (November 24)

This final lecture aimed to put what we have seen to date into some larger context, with a view to open problems and active research. To set this up, we considered the inequality for a given homology theory between the total dimension and the Euler characteristic. Simple objects, relative to the homology theory in question, are those for which equality is attained between these two values. For example, considering ordinary homology evaluated on closed orientable surfaces, the only simple object in this sense is the 2-sphere. In the context of Heegaard Floer homology, an invariant of closed orientable 3-manifolds, the simple objects are called L-spaces and the problem of classifying these is a question that continues to receive considerable attention. Restricting to graph manifolds Y, it is now known that Y being an L-space is equivalent to Y not admitting a co-orientable taut foliation and it is also equivalent to the fundamental group of Y not admitting a left-invariant strict total order. We discussed relative versions of the problem, and this pointed to a different knot homology theory called knot Floer homology. Finally, we returned our attention to knots, where thinness now plays the natural role of simplicity. The question "what is a thin knot?" is wide open; I explained how to characterize thinness in terms of relative invariants in the presence of a Conway sphere.
Student talks (December 1)

Ethan (2:00 pm): The Lee-Rasmussen spectral sequence

Mihai (3:00 pm): Heegaard Floer homology and branched double covers
Student talks (December 3)

Max (1:30 pm): Concordance invariance from bi-filtered knot invariants
Student talks (December 7)

Hannah (3:00 pm): Frobenius algebras and TQFTs
Student talks (December 8)

Santanil (12:00 pm): sl(3) link homology

Ben (1:00 pm): Categorifying the HOMFLYPT polynomial