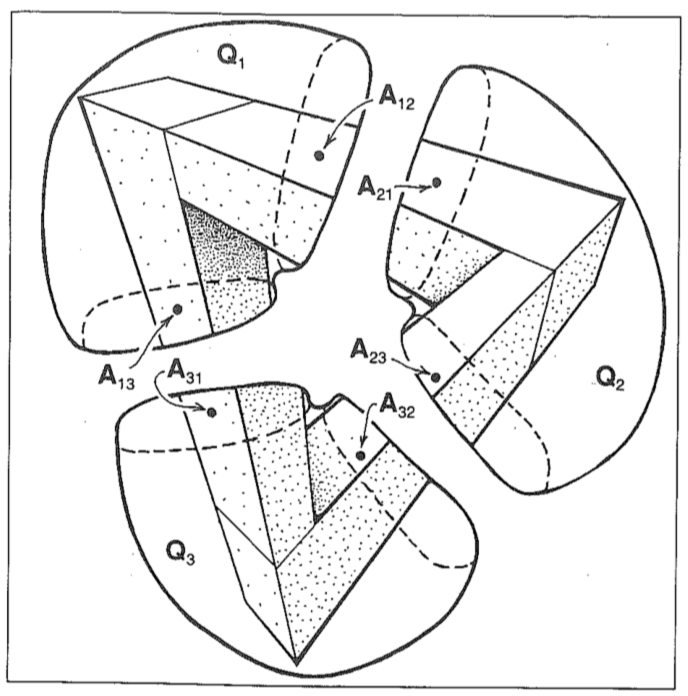 Algebraic Topology
Winter 2023
This course covers some essential elements of algebraic topology. It has, very broadly, two parts:
Part 1: Homology
Part 2: Cohomology
With a little luck, the split into parts will coincide with the reading break.
Everything you need for the course is here. To see what this course looked like the last time I taught it, go here.
Please note that Math 426 (or similar) is an essential prerequisite. In particular, familiarity with the fundamental group will be assumed.
As has become the new normal, it remains possible that flexibility will be required. I will use your official UBC email to contact you where needed. Ensure that your official email is up-to-date (namely, that you actually receive/read emails from your official email) at the Student Service Centre.
The image on the right was borrowed from the essay On the Cohomology of Impossible Figures by Roger Penrose.
Instructor
Liam Watson
liam(at)math(dot)ubc(dot)ca
Office hours by appointment.
Where, when...
We meet in in Math Annex 1102. Class is on Wednesdays and Fridays from 8:30 to 9:45.
Homework
You will always have at least one full week (and usually more) to complete assignments; deadlines and assignments will be posted here. Your assignments should be prepared using LaTex. Please note that no late assignments will be accepted.
Homework problems from Lectures 1, 2, and 4 are due in class on Wednesday February 8.
The remaining homework problems up to the break are due in class on Wednesday March 1.
Homework problems through Lecture 18 in class on Wednesday April 5.
Evaluation
This course is evaluated entirely on homework. Each assignment carries equal weight.
Suggested references
Algebraic Topology by Allen Hatcher, available here.
Basic Category Theory by Tom Leinster, available here.

A word about supporting material for the course: The references listed above have been designated as optional, but this does not mean that seeking supporting material for the course is not required. There are many great references for topology, and it is up to you to find the materials you need to complement the lectures and succeed in the course. This search may be done in consultation with me; I am more than happy to help. I will endeavour to provide clear notes in class, summarise lectures below, and point to references for additional reading.
Lecture summaries
Lecture 1: Introduction (January 11)

I like this quote from Tom Leinster: "A category is a system of related objects. The objects do not live in isolation: there is some notion of map between objects, binding them together." Today we reviewed some basics of category theory, particularly functors between categories, and used this to formailze a proof of the Brower fixed point theorem.

Homework
Lecture 2: Euler characteristic (January 13)

Our aim is to compute a suite of functors called homology groups. These will be relatively easy to work with, but the cost is a somewhat lengthy definition. To motivate the objects we'll require, we looked at the Euler characteristic of a surface, which suggests a notion of cellular decomposition (to be formalized). Our goal, ultimately, is to find a categorical lift of the Euler characteristic.

Homework
Lecture 3: CW complexes (January 18)

In order to define homology groups for X, we need some sort of decomposition of the space X. There are various ways to do this. To start with, we will use CW complexes, which were introduced today.

Homework: Read pages 519-529 from the appendix in Hatcher
Lecture 4: Some intuition for homology (January 20)

By considering low-dimensional CW complexes, namely graphs, we attempted to generate some intuition for what homology might measure. Ultimately, we concluded that the one dimensional homology of a space should count cycles (essentially un-based loops) modulo boundaries. That is, while the 1-dimensional chain group is generated by the 1-cells, the 1-dimensional homology classes were equivalence classes of those cycles differing by some boundary.

Homework
Lecture 5: Homology as a functor (January 25)

We collected our intuition from last lecture into a suite of definitions, including chain complexes of modules and the homology of such complexes. This allowed us to axiomatically define the functors that we wish to construct (and single out their essential properties), taking the based homotopy category to a category of modules. The image of these functors, which we still need to construct, will ultimately be the homology modules (groups, when the underlying ring is Z) associated with a CW complex.
Lecture 6: Homology is stable (January 27)

Continuing our discusion from last time, we showend that homology is stable with respect to suspension. From this fact it follows that a homotopy equivalence of spheres Sm and Sn is equivalent to m=n. While this still depends on a class of functors that we have yet to fully construct, it does indicate that the attaching maps we are interested in leveraging into chain maps should be completely determined by their degree, that is, the value of the identity in the ring R in the image of a morphism induced from a map between spheres.
Lecture 7: The degree of a map between spheres (February 1)

We formalized the notion of degree, and checked the basic properties forced on us by functoriality.

Homework
Lecture 8: The degree for circles and winding (February 3)

We'd like to be able to calculate the degree by hand, in fact, what we would really like is for all of this to line up with the attaching maps coming from our cell complexes. To this end, we first determined the degree for some model maps between spheres, and in doing so we saw an agreement in dimension 1 between the degree and the winding number.

Homework
Lecture 9: Degree as a sum of local degrees (February 8)

We gave a definition of the degree of a map in terms of the local degree, as a generalization of winding number.

Homework
Lecture 10: Degree à la Milnor (February 10)

A long aside following Milnor about how we might compute local degree in terms of regular values associated with a smooth map of spheres. For those of you with background/inrerest in geometry, Milnor's book is a great short read.

Homework
Lecture 11: Cellular homology (February 16)

Finally, we assembled all the pieces and defined the cellular chain complex. This came with a proof of a theorem stated much earlier: for any ring R the reduced homology functors we gave as a definition were completely determined by the axioms in said definition.
Lecture 12: Cell complexes via Morse theory (February 18)

Expanding on the discussion started last time, we saw in detail how a Morse-Smale function on smooth, compact manifold generates a cell structure. Indeed, these considerations allowed us to define the Morse-Witten chain complex, and even see parts of the proof that this complex computes the cellular homology groups we've been studying.
Reading week

Please read section 2.1 of Hatcher on Simplicial and singular homology (pages 102 through 131). Important points are homotopy invariance (which you should understand the details of) and excision (which you should at least be aware of).